Quality management systems are relevant to all organisations large or small, public or private, manufacturing or service.
Services: Quality Management
Introduction to ISO9001
Quality Management Systems are relevant to all organisations large or small, public or private, manufacturing or service.
ISO 9001:2015 is the internationally recognised standard for Quality Management Systems. It provides organisations with a framework and set of principles that ensure a common-sense approach to the management of business activities to consistently achieve customer satisfaction.
Any organisation can benefit from implementing ISO 9001:2015 as its requirements are underpinned by the 7 Management Principles:
A customer focused organisation.
Leadership.
The involvement of people.
Ensuring a process approach.
A factual approach to decision making.
Mutually beneficial supplier relations.
Continuous improvement.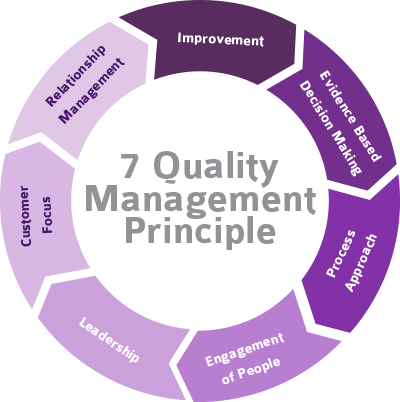 How organisations benefit from ISO9001:2015 Certification

Reductions in costs, mistakes and defects due to improved quality and business planning.
Reductions in levels of customer complaints and the raising of customer satisfaction levels by correctly determining and achieving customer requirements. As a result, when you have higher rates of customer satisfaction, you see higher rates of repeat business.
An increase in productivity and efficiency as a result of improved quality management and awareness since the process approach examines each process within your company, as well as how those processes interact. In this way, it becomes easier to determine where you can make improvements, and where you can combine and save resources.
A consistent approach to procedures and processes by developing "best practices".
Organisations improve their ability to win more business, particularly where procurement specifications require certification as a condition to supply and PQQ requirements.


The additional benefits include:
Improved access to new clients and markets.
The improvement of your organisations public image.
Improved decision making.
Your employees and workforce become more engaged and committed
Improved supply chain management.
QSP Solutions and ISO9001
The quality management system services provided by QSP Solutions include:
Quality Policy Statement. [a copy of the MS02 Quality Policy is available by clicking here]
Business and Quality Objectives.
The development of Management Processes and Process Mapping.
Guidance on the Context of the Organisation and Risk Management.
Delivery of ISO9001:2015 and Quality Awareness training sessions to staff and employees. [an ISO9001:2015 Awareness Briefing is available by clicking here]
Undertake and manage internal audit programme, including audits, audit reports and support through to resolution of any issues arising.
Prepare a promotional briefing to key clients and trade press etc. following successful certification to ISO9001:2015.
Defect reduction and continual improvement strategies.
Liaison with the chosen UKAS Certification Body for certification to ISO9001:2015.
Maintenance of the ISO9001:2015 management system post certification.
An ISO9001:2015 Action Plan is available by [clicking here]
The clauses of ISO9001:2015 are: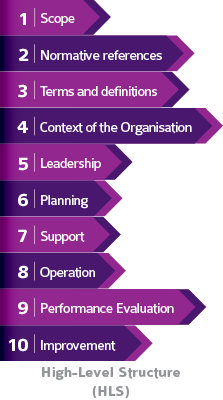 Scope
Normative references
Terms and definitions
Context of the organization
Leadership
Planning
Support
Operation
Performance evaluation
Improvement
A PDF outlining the clauses 4 to 10 is available by clicking here
A further PDF document showcasing in detail each individual clause 1 to 10 is availble by clicking here