Keep people safe, save money and improve performance.
Services: Health and Safety
Why do businesses need the new ISO 45001:2018 standard?
With more than 40 versions of the OHSAS 18001 standard used worldwide today, the International Organisation for Standardisation (ISO) decided, like with many previous national standards, to create one, universally adaptable standard that will incorporate and supersede all those former standards. This new standard has been named ISO 45001:2018.
ISO 45001 has been developed so that OHS Management can be more easily aligned with the management system approaches adopted by other ISO management system standards, such as ISO 9001:2015 and ISO 14001:2015.
The ISO 45001 standard enjoyed input from a number of safety practitioner including the Institution of Occupational Health and Safety (IOSH) and the International Labour Organisation (ILO).


What are the differences between OHSAS 18001 and ISO 45001?
ISO 45001 will follow the same Annex SL structure that is used in standards like ISO 9001:2015, ISO 14001:2015 and ISO 27001, making system integration much easier for certified businesses. The Annex SL structure will use common text throughout and will also cover the following:
Context of the organisation
Leadership
Planning
Support
Operations
Performance evaluation
Improvement
A PDF outlining the ISO45001:2018 Clauses is available by clicking here
The clauses of ISO14001:2015 are: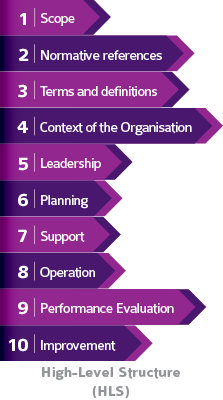 Scope
Normative references
Terms and definitions
Context of the organization
Leadership
Planning
Support
Operation
Performance evaluation
Improvement
A number of the requirements of the new standard are similar to those within OHSAS 18001, so organisations already certified to OHSAS 18001 should find switching to the new standard fairly straight forward.
The new standard offers a slightly different definition of the terms 'Risk', 'Worker' and 'Workplace', as well as introducing new concepts, for example:
Context of the organisation – This will identify the external and internal factors affecting the organisation in order to prepare the foundation for the effective management of risk.
Leadership – This will require that top management takes full ownership of, and responsibility for, OHS management and that effective controls are put in place.
Management of change – This will ensure that the organisation effectively plans and manages changes to the OH&S management system in order to avoid any deterioration in performance.
According to the World Congress on Safety and Health at Work, there are 860 000 occupational accidents every day and the direct or indirect cost of occupational illness and accidents at work is estimated to be approximately GBP 1.8 Trillion, worldwide. By introducing the new international standard for OHS Management it is believed that this could help to save more lives, reduce accidents further and improve employee morale around the world.
How the organisation can benefit from ISO45001:2018:
Improved risk and hazard management by the identification of potential incidents and the implementation of controls and pro-active measures.
Compliance with health and safety legislation by understanding how statutory and regulatory requirements impact the organization, its employees, interested parties and others.
Improving an organizations ability to win more business, particularly where procurement specifications require certification as a condition to supply and PQQ requirements.
Improved relationships by safeguarding the health and safety of staff, customers, suppliers and other stakeholders and interested parties
Cost savings by decreasing down-time through incidents, ill health and reducing costs associated with legal fees and compensation
Improving an organisation's efficiency by reducing the risk of accidents and incidents leading to increased profitability.
Minimising the risk of regulatory and liability fines and reducing the risk of non-compliance with legislation and subsequent costs/prosecution.
Over the last decade customers are requiring organisations adopt stricter health and safety regulations and practices, making certification to ISO45001:2018 a greater necessity for the long-term viability of businesses and providing them with a competitive advantage and improved brand image.


The Health and Safety management system services provided by QSP Solutions include:
Implementation and operation of a health and safety management system to ISO45001
Health and safety policy statement, health and safety objectives and procedures a copy of the MS06 Health and safety Policy is available by clicking here]
Identifying compliance with health and safety and other regulations
Development of health and safety management programmes
Health and safety aspects and impacts management
Delivery to staff of employee ISO45001 and health and safety awareness training sessions an ISO45001:2018 Awareness Briefing is available by clicking here
Undertake and manage health and safety internal audit programme, including audits, audit reports and support through to resolution of any issues arising.
Liaison with the chosen certification body for certification to ISO45001
Maintenance of the ISO45001 management system post certification.
A PDF outlining the plan, do check act clauses 4 to 10 is available by clicking here